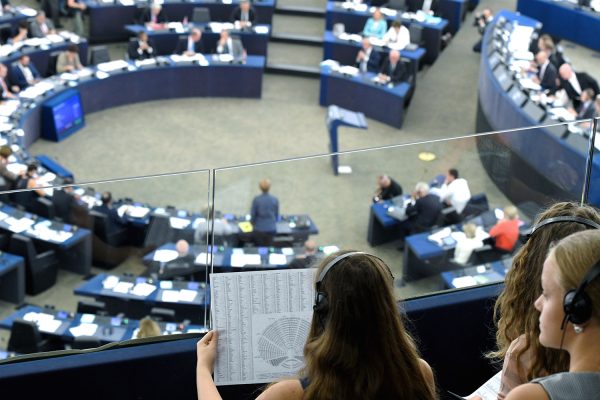 A plot by the socialists in the European Parliament to keep the legislature's presidency for themselves backfired on Tuesday when the conservative Antonio Tajani was elected with liberal and Euroskeptic support.
Tajani, an Italian politician with nearly a decade experience in Brussels, was supported by the three center-right blocs: his own European People's Party, the Alliance of Liberals and Democrats, and the European Conservatives and Reformists, which is led by Britain's Conservative Party. Together they have 359 out of 751 seats.
Liberal party leader and former Belgian prime minister Guy Verhofstadt withdrew his own candidacy to support Tajani when it became clear he would fall short.
Liberal kingmakers
Tajani replaces Martin Schulz, the German Social Democrat who stepped down late last year in order to run for parliament in his own country.
Schulz was always meant to resign in the middle of this parliament under a coalition agreement between the center-left and the center-right.
But social democrat leader Gianni Pittella, another Italian, reneged on that agreement, seeking the presidency for himself.
Pittella was supported by the Greens and the far left, but it was not enough to put him over the top. The liberals — as so often in EU politics — held the balance.
End of the grand coalition
Pittella's downfall is likely to mean the end of the left-right coalition that has governed the EU for many years.
"We will never again have a grand coalition," he said, in what sounded like a fit of pique. "We need clarity. Europe and our democracies need clean divisions between ideas."
Well, they have that much.
All three presidencies of the EU are now in conservative hands. The European Commission's Jean-Claude Juncker and the European Council's Donald Tusk are both members of the People's Party, in which German chancellor Angela Merkel's Christian Democrats are the dominant faction. The social democrats are left without power and without influence.