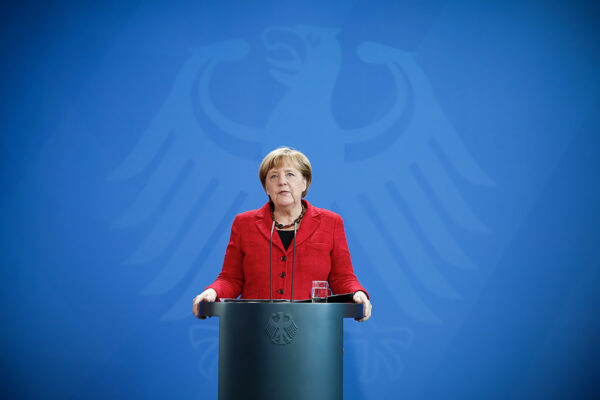 Last week's terrorist attack in Berlin does not appear to have had a major political impact in Germany. Few blame Angela Merkel and her immigration policy, even though it was a Tunisian man who killed twelve people by driving his truck into a Christmas market.
A Forsa survey conducted for the magazine Stern found that only 28 percent of Germans believe there is a connection between the attack and Merkel's decision in 2015 to allow in more than one million asylum seekers from the Middle East and North Africa.
Those voters are mostly right-wing. 93 percent of Germans who say they will vote for the Alternative für Deutschland party next year blame Merkel.
More worryingly for the chancellor, half the supporters of her Bavarian sister party, the Christian Social Union, also fault her for the Christmas market attack.
The self-proclaimed Islamic State, a militant group with territory in Iraq and Syria, has claimed responsibility for the attack. The suspected perpetrator was shot dead a few days later by police in Italy.
Silent majority
Most Germans — 68 percent — reject a connection between Merkel's immigration policy and the violence in Berlin, according to Forsa's survey.
Other polls suggest it did not change many voters' intentions for the next election either.
Merkel's Christian Democrats remain at 38 percent support. The Alternative, which has become increasingly nationalistic this year, is at 12 percent. The next coalition government is likely to be a center-left one between Merkel and the Greens.
Balancing act
It is because she is eying a pact with the Greens that Merkel has tilted more to the center in recent years. She phased out atomic energy — a long-standing Green party goal — after the nuclear power plant disaster in Fukushima, Japan in 2013 and her immigration policy since 2015 has been more generous than most Christian Democrats previously supported.
I argued here last month that Merkel must take care to protect her right flank. Move too far to the left, I warned, and the Alternative für Deutschland as well as the more reactionary elements in Merkel's own Christian Democratic alliance could be galvanized.
Christian Social Union leader Horst Seehofer, the prime minister of Bavaria, has constantly pushed a harder line, calling for restored border controls and limits on the number of people Germany will take in.
While publicly repudiating such demands, Merkel has shifted, for example by suspending family reunifications and making it easier for judges to deport immigrants who are found guilty of serious crimes.
Attitudes hardened in Germany after foreigners were accused of assaulting women in the streets of Cologne on New Year's Eve last year.
"We can't just go on with our existing laws," Klaus Bouillon, the regional interior minister for Merkel's Christian Democrats in Saarland, told the Passauer Neue Presse.
His state will be the first of three to hold regional elections in 2017, which will be considered previews for the national election in September.
Step by step
For now, Merkel appears successful at her balancing act: broadly appealing to the center while taking small steps — some concrete, others more symbolic — to stop conservative voters from defecting to the far right.
At a party congress earlier this month, Merkel called for a ban on the burqa, a measure that would affect no more than a few hundred women but signal that Germany expects newcomers to assimilate.
On Wednesday, the government legislated for the expansion of video surveillance in commercial and public spaces. Many Germans were (and some still are) apprehensive about such surveillance, especially in the formerly communist East Germany, but the law is one Merkel can point to as a meaningful step she is taking to improve security.
A red line Germany has yet to cross is the so-called Trennungsgebot, which prohibits the police and intelligence agencies from collaborating too closely lest they repeat Nazi-era abuses. Some kind of reform is now likely. When that happens, it will be another example of Merkel's pragmatic leadership, which the vast majority of Germans support.