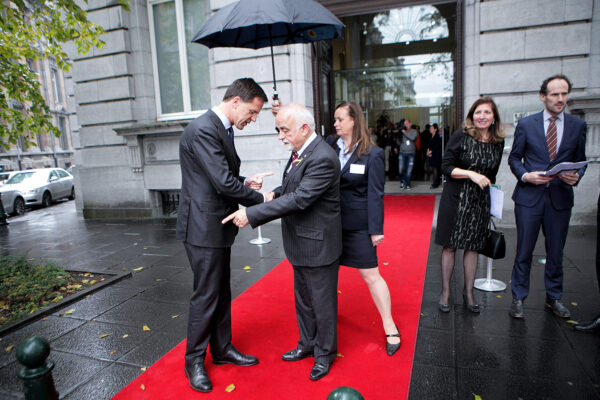 Dutch prime minister Mark Rutte failed to convince other parties on Friday to support his attempts to amend the Netherlands' ratification of a European association agreement with Ukraine, despite warning that withdrawing from the accord could trigger instability on Europe's eastern border.
"This is bigger than the Netherlands alone," Rutte said at a news conference.
The leaders of the Christian Democrats, liberal Democrats and Green Party were not impressed.
Rutte needs their support because the two ruling parties do not have a majority in the upper chamber of parliament.
Centrist opposition
Christian Democrat leader Sybrand van Haersma Buma argued that his party could not take a position before the government submits its proposal.
The liberal Democrats' Alexander Pechtold blamed Rutte for not convincing Dutch voters to support the treaty in a referendum earlier this year.
Both centrist parties are expected to do well in the next election. Buma's Christian Democrats could try to pry Euroskeptic voters away from Rutte's liberals while Pechtold's pro-European party and the Greens are benefiting from the collapse of the ruling Labor Party.
Bind
It is unclear what changes Rutte could negotiate in Brussels that would justify not pulling the Netherlands out of the association pact while nevertheless respecting the will of the voters.
Other European leaders seems to be in little mood to cut a deal, especially when they have to cope with the fallout of another ill-advised referendum, about Britain's European Union membership, at the same time.
Rutte said on Friday that other countries would not agree to a fudge unless he has the support of his legislature. That puts the Dutchman in a bind: He can't get a deal without the support of other parties, but other parties are refusing to back him so long as he doesn't have a deal.
Dutch exception
Most parts of the association agreement are already in force. No other member state wants to renege on its commitments.
Euroskeptics in the Netherlands forced the government to organize a referendum about the treaty in April. 61 percent of voters rejected the text, although turnout barely topped the 30 percent needed to make the referendum legal.
Parliament can override the result, but most parties have said they want to respect the outcome.