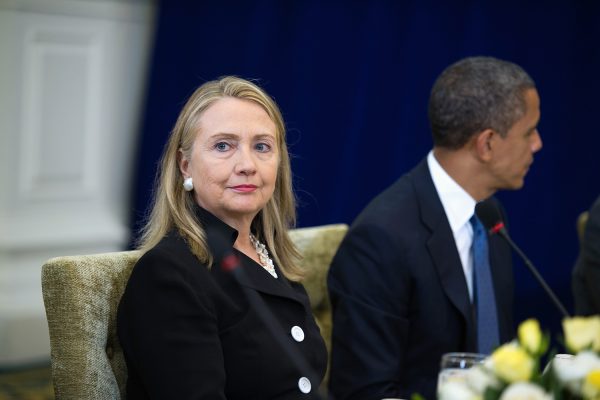 Democrats are gambling if they're proposing to get the Trans Pacific Partnership (TPP) trade agreement through the Senate after the election in November.
Hillary Clinton, the party's presidential nominee, has raised doubts about the treaty, saying it doesn't do enough to create jobs and raise wages.
Her vice presidential candidate, Tim Kaine, also says he can't support the treaty in its current form, despite being one of just thirteen Democratic senators who voted last year to give President Barack Obama so-called fast-track authority to negotiate the pact.
Their newfound skepticism of the agreement, which proposes to liberalize 40 percent of the world's trade, is a gesture to supporters of Bernie Sanders, a self-declared socialist from Vermont who challenged Clinton during the Democratic primaries.
Although polls show a majority of Democratic Party voters support free trade, left-wing activists have made common cause with trade unions to resist TPP.
Clinton and Kaine could hardly change their minds again after the election. Their hope is getting the treaty ratified before the next president is sworn in in January.
Blue-collar voters
The pact would reduce tariffs for cars and food products, harmonize intellectual property rights for medicines and regulate online commerce.
It also has a clause for settling disputes between governments and multinationals that has drawn the ire of anti-trade activists.
Although the treaty has little to do with manufacturing, it is particularly unpopular in the postindustrial "Rust Belt" states of northwest America where Democrats are vying with the Republican Donald Trump for the support of blue-collar voters.
Trump opposes the pact, but his party does not.
Republican legislators, who still have majorities in both chambers of Congress, usually support trade agreements.
More than a trade deal
They also recognize that TPP is about more than trade. It is the economic component of America's "pivot" to Asia, which is aimed at counterbalancing China's rise.
China isn't part of the deal. But, if enacted, it should help pressure that country to meet its standards and stop trying to game global trade in its favor.
Allies, including Colombia, the Philippines, South Korea and Taiwan, have expressed an interest in joining for that very reason.
Should the United States pull out, it would do serious damage to its China strategy, not to mention the developing economies of East Asia.
Bet
Clinton, who helped design the "pivot" when she served as Obama's first-term secretary of state, knows that.
She is probably betting on Republicans to wave the pact through the Senate in a lame-duck session after the election.
Given the stakes, and given how divided Republicans now are on trade, that's a serious bet to make.
She and other Democrats better know what they're doing.