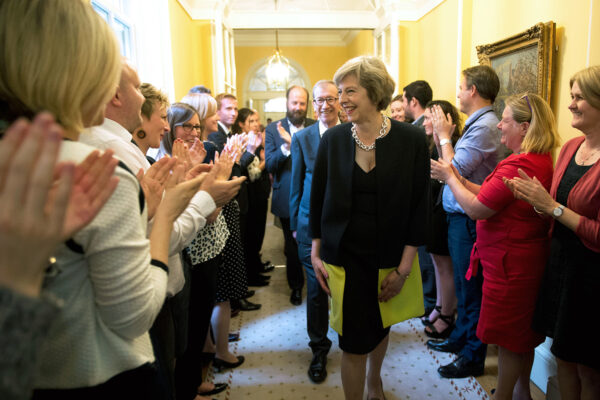 Theresa May has promised to govern as an inclusive, "one-nation" Conservative since taking over from David Cameron as British prime minister last week.
To make clear she meant it, the former home secretary sacked many of Cameron's loyalists from the cabinet and brought in more traditional, as opposed to liberal, Conservatives.
Richard Aldous, a history professor and the author of Reagan and Thatcher: The Difficult Relationship (2012), is positive about the reshuffle. He writes in The American Interest that the new cabinet is 70 percent publicly-educated, including the new prime minister herself; a break with Cameron's private-school club.
"As a consequence," argues Aldous, "this administration is one that looks a little more like modern Britain — an important shift if May wants to deliver on her stated commitment to building 'one nation'."
Aldous does worry about the mass expulsion of the Cameroons, including George Osborne, the longtime chancellor, Stephen Crabb, the former work and pensions secretary, and Nicky Morgan, the former education secretary.
"Looking at the new government team, it is not immediately apparent who will replace them as the animating forces behind policy," he writes.
Middle ground
Tim Bale, another historian and author of The Conservative Party: From Thatcher to Cameron (2012), suggests in The Guardian that Nick Timothy, one of May's two new chiefs of staff, may be such an intellectual light.
In March, Timothy exhorted his party in a column for Conservative Home to find a middle way between the big-city liberalism of Osborne and the Tory paternalism embodied by the likes of Iain Duncan Smith — a tension that has existed within the Conservative Party for at least a century, as Bale relates.
The voters Conservatives need to reach are ordinary working- and middle class, according to Timothy; people of modest means, but who work hard and want to give their children the best start in life they can.
They are natural conservatives for precisely the reason that the stakes they have are small. They want stability, certainty and steady leadership by politicians who have their interests at heart.
Cue May who entered 10 Downing Street promising to lead a government that "will be driven not by the interests of the privileged few, but by yours."
Pendulum
Bale argues that while the liberal conservatism of Cameron and Osborne had its benefits — autonomous schools, marriage equality, lower business tax rates — its green policies and failure to curtail immigration left the working people Timothy wrote about unmoved.
Janan Ganesh, a liberal himself, fears the pendulum will now swing the other way.
He is not impressed with May's rhetoric, arguing in the Financial Times that until a new prime minister promises to govern for the privileged few, make Britain less unified and ignore social problems, "it will never be interesting when one says the opposite."
Christian democrat-like
Ganesh does see the argument for a more Christian democrat-like type of Conservatism.
Cameron and Osborne reconciled their party to modern Britain, he writes, "in all its cultural flux and godless consumption." May will attempt another kind of rapprochement: between party and country.
The Tories, defined by the market since Thatcher, will start to reflect voter disillusion with it. This could mean a slower and differently designed fiscal consolidation, with taxes doing more of the work, and active government support for industries and regions. It will almost certainly mean a labor market less porous to foreigners.
But he sees two major obstacles.
One is that global economic forces, which have given Britain a services-heavy economy that disadvantages low-skilled workers, are difficult to bend. Every government wants to raise productivity, restore manufacturing and revive the postindustrial north of England. The difficulty, as always, is how?
Second is Britain's European exit, which, Ganesh predicts, will overshadow everything else. Civil servants, ministers and journalists will have neither the time nor interest to design an industrial policy or reform social security at the same time. Extracting the United Kingdom from the European Union is the biggest challenge the country has faced in decades.
"The process of exit will drain all else," writes Ganesh, "including the prime minister's new Conservatism." The upside — as he sees it — may be that the new government doesn't act too differently from the last one after all.