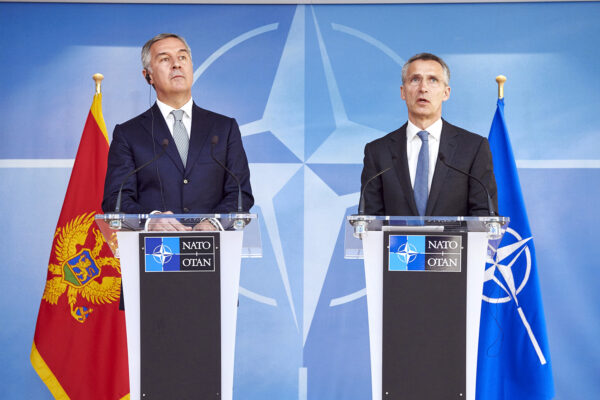 Montenegro signed an accession protocol with NATO this week. 28 foreign ministers from the alliance's existing member states signed the treaty earlier this month to clear the way for the Balkan state's entry.
Expanding the alliance at a time when tensions with Russia are high due to the Atlanticist ambitions of another country in Eastern Europe — Ukraine — might strike some as unwise.
Montenegro, with its population of 600,000, also seems to offer NATO little. It has just 2,000 soldiers along with two frigates and four light ground-attack aircraft inherited from the former Yugoslavia.
So why is Montenegro joining NATO? Let us explain.
Montenegro's choice
For Montenegro's leaders, this is about choosing to be a Western nation. They are in talks to join the European Union as well, a process that requires significant economic and political reforms from the country.
Milo Ðukanović, the long-time prime minister, tells Politico, "There is a battle going on in Montenegro and across the Balkans, between the past and the future; between those who want to keep Montenegro and other Western Balkan countries in the old matrix even though that brought us to the bottom of Europe."
GDP per capita is around €6,000, higher than in neighboring Bosnia and Macedonia but far below the European average of €28,000.
Since Montenegro opened negotiations to join both the EU and NATO, foreign investment has risen, helping its economy expand.
Liberalizations as well as regulatory and judicial reforms that are a precondition of EU membership should help Montenegro's economy expand further.
There is also a security component. Ðukanović says that "as long as countries of the Western Balkans are left wondering between the East and West there will be no security and stability in Europe."
Russia has been meddling in the region, particularly on the side of the Serbs, a fellow Slavic and Orthodox Christian people. The German Foreign Ministry has warned that Moscow is engaging in "public diplomacy with clear pan-Slavic rhetoric" in the Balkans. Elmar Brok, a German conservative who chairs the European Parliament's Committee on Foreign Affairs, told Der Spiegel that Russia's "goal is to exert so much pressure on Balkan states that they either back away from EU membership or that, once they become members, influence EU resolutions in a pro-Russian manner."
Montenegro, with its large ethnic Serb minority, would feel less vulnerable to Russian machinations under the NATO umbrella.
What's in it for NATO?
There is a risk of aggravating Russia, which genuinely sees NATO expansion as a threat, but Edward P. Joseph, a senior fellow at Johns Hopkins' School of Advanced International Studies, argues in Foreign Affairs magazine that the benefits of bringing Montenegro into the alliance outweigh this risk:
It closes the possibility of a Russian naval basing in the Adriatic;
It would anchor a country that was once under the grips of pro-Russian Serbia into Western institutions; and
It promises to spur EU enlargement in the Balkans, which has flagged in recent years.
No former communist country has joined the European Union without first joining NATO, Joseph points out, and EU accession is a central plank of America's strategy to press Europe to confront its Balkan backyard.
Finally, as Ryan Bohl has reported for the Atlantic Sentinel, Western Balkan states send hundreds of thousands of immigrants to wealthier Europe every year. Coming on top of the refugee flow from North Africa and the Middle East, this influx is too much to bear.
Better to improve economic conditions and security in the region, and expand employment opportunities there, than have the Balkans send all their youth westward.