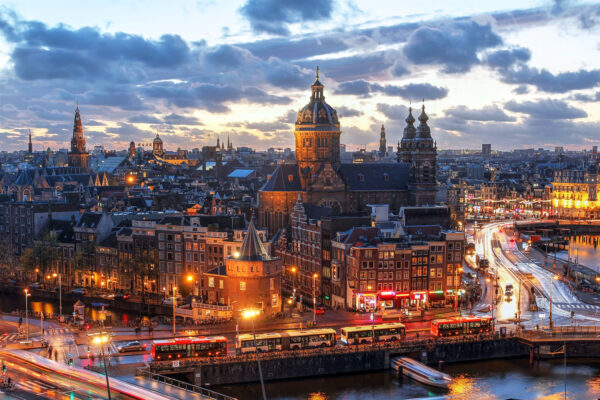 61 percent of Dutch voters rejected an association agreement with Ukraine in a referendum on Wednesday, but only a third bothered to vote.
Prime Minister Mark Rutte cautioned against rushing to conclusions but also said the EU treaty "cannot be ratified in this way" if turnout clocks in at 30 percent or higher.
4.1 million eligible voters, or 32 percent, turned out, making the referendum legally valid — but not binding. It is only advisory.
A majority of the parties in parliament has said the result should be respected all the same, even though a majority also favors ratification of the agreement with Ukraine.
Only the far-left Socialists and the nationalist Freedom Party on the right oppose it.
Euroskeptics
The outcome on Wednesday looks similar to 2005 when 62 percent voted in a referendum against a proposed constitution for the EU.
The latest vote was triggered when Euroskeptic groups gathered more than the 300,000 signatures needed to organize a plebiscite last year.
However, many voters said they weren't sure what the Ukraine treaty was about. Even the initiators of the referendum admitted in an interview that their real goal was to get the Netherlands out of the European Union.
Stepping stone
Despite assurances from Rutte and other leaders, many in the Netherlands see the pact, which commits Ukraine to harmonizing its economic and social policies with those of the 28 countries in the EU, as a stepping stone to membership.
Not without reason. Other former Russian client states in Eastern Europe signed similar agreements before joining the bloc between 2004 and 2007.
It's not that many voters in the Netherlands have specific objections to Ukraine joining. It's that most are skeptical of EU enlargement altogether and feel the bloc has been making decisions over their heads, from the 2005 constitution, which was rewritten as the Lisbon Treaty, to the bailouts of Greece, which a majority of Dutch people opposed.
Russia
Proponents of the treaty tried to turn the referendum into a proxy of Dutch attitudes toward Russia.
Whereas some Euroskeptics accuse Brussels of needlessly aggravating relations with what is one of the Netherlands' largest trading partners, Dutch views of Russia and its president, Vladimir Putin, are largely negative. Many blame him for an airline crash in eastern Ukraine that killed 193 Dutch tourists in 2014. Russian-backed rebels likely downed the jet with Russian-made weapons.