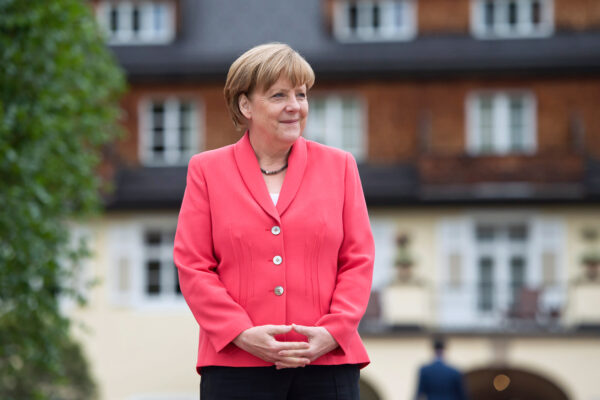 Alex Harrowell has a fascinating piece in Politico about the "secret" to German chancellor Angela Merkel's survival that argues her refusal to give in to the right on migration is part of a deliberate strategy.
He starts off making much the same argument as we did on Sunday: contrary to what some seemingly pre-written headlines suggested, the state elections in Baden-Württemberg, Rhineland-Palatinate and Saxony-Anhalt that day weren't really such a terrible blow to the chancellor. Only in the latter, a former East German state that has long been more tolerant of fringe politics, did the anti-immigrant Alternative für Deutschland party get more than 20 percent support. Across the country, it remains stuck at around 10 percent. The much-anticipated backlash against Merkel's generous immigration policy did not quite materialize.
The reason, we said, is that Merkel is adaptable. She got ahead of public opinion last year by letting in one million immigrants. Now she is backpedalling, freezing family reunifications, for example, and speeding up deportations. All this, we argued, is signaling to right-wing voters that Merkel understands their concerns is moving in their direction.
Harrowell's take is a different one.
Merkel Land
He zeroes in on Baden-Württemberg, the largest of the three states that voted this weekend. It is not only a big and economically vibrant place, "the home of Porsche, Daimler-Benz and SAP"; it is also very much the heartland of West German, Atlanticist, pro-European, Catholic, Christian Democracy. Merkel routinely invokes the "Swabian housewife" to justify her frugal spending policies. Her hawkish finance minister, Wolfgang Schäuble, is a native of Baden-Württemberg and the product of the Freiburg School of liberal economics. This should be Merkel's heartland.
Except the Greens govern in Stuttgart and they expanded their plurality on Sunday.
Merkel's Christian Democrats lost 12 percent support. It was their second loss in Baden-Württemberg in a row. They've gone down from 69 out of 139 seats in 2011 to 42 today.
The local conservative party leader, Guido Wolf, campaigned against Merkel's immigration policy and lost. Winfried Kretschmann, the state premier and Green party leader, went up, winning nearly a third of the votes.
The biggest single group of new Green voters were ex-conservatives, Harrowell points out. "Polling suggests they approve of Merkel's migration policy (by as much as 76 percent) and disapprove of Wolf's disloyalty."
Triangulation
Much has been made of Merkel's adaptability. She switched from a coalition with the left-wing Social Democrats to the right-wing Free Democrats in 2009 only to switch back the Social Democrats again in 2013.
Harrowell reads more into this. "Merkel is a master of the politics of triangulation," he writes, "that finds compromise between opposing poles to create a new, diagonal, crosscutting line between new poles. Only an indispensable leader can pull that off."
He sees an example in Merkel's move away from nuclear power. Coming at the time of the Fukushima nuclear disaster in Japan, it may have seemed (or been) an opportunistic shift. But it also turned against what Harrowell describes as the Christian Democrats' "technocratic, NATO-infused soul" and opened the party up to the Greens, liberals and more cosmopolitan bits of the Social Democrats and Die Linke.
Merkel's open-door immigration policy should be seen in the same light, argues Harrowell.
Merkel defines a new division, between globalists, or at least Europeans, and nationalists or — thinking about extreme-right protest group PEGIDA's profoundly local base — regionalists.
She thus pits the Social Democratic mainstream, the Greens, liberals and centrist side of her own party against the Alternative, Die Linke, her right-wing Bavarian sister party, the Christian Social Union, and indeed the reactionary elements in the Christian Democrats proper. To the extent that the Alternative winning a few seats in state legislatures highlights this divide, it only serves Merkel's purposes.
The Greens, or at least the version of the Greens that Kretschmann represents, are the key. They are "an absolutely viable coalition partner and an absolutely viable competitor for naturally centrist-conservative voters," according to Harrowell. The Christian and Social Democrats both know it and are disciplined by it.
Is Harrowell right? We're not sure. But his is certainly a far more compelling interpretation of Merkel's behavior in the last year or so than anything else we've read.