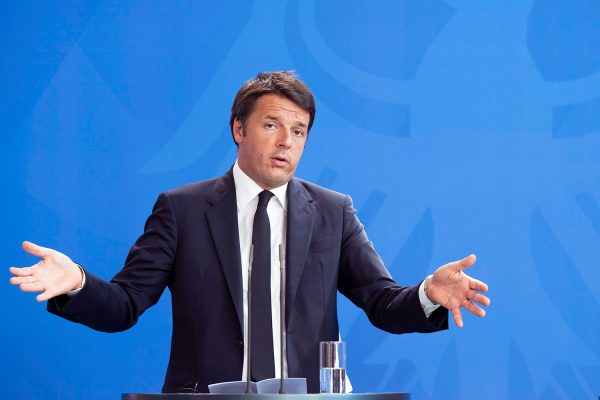 Italy's prime minister, Matteo Renzi, has lately taken a hard line against the rest of the European Union, warning that German-inspired austerity is fanning the flames of populism.
The rhetoric is self-serving. Renzi is trying to scare the European Commission into signing off on his generous spending plans when the pace of Italy's fiscal consolidation and economic reform has slowed.
Breath of fresh air
When he came to power two years ago, the young former mayor of Florence seemed like a breath of fresh air. Here finally was an Italian leader with the determination and the mandate to shake up the country's sclerotic economy and political system.
He has had some successes. Renzi put together a broad left-right coalition to reform the country's electoral laws and weaken the Senate. Both changes, once implemented, should make Italy more governable in the future.
Some important economic reforms were also enacted, including making it easier for companies to lay off workers.
But those reforms have yet to pay off. Figures released on Friday showed that the economy expanded just .1 percent in the final quarter of 2015. The slowdown in growth makes it more doubtful that Italy will meet its fiscal targets this year, setting it up for another confrontation with the European Commission.
Job half-done
In public, Renzi is saying the hard work is done and Italy now deserves flexibility from the EU while it grows its economy.
In reality, very little has changed.
Planned spending cuts have been repeatedly scaled back while a reform of the civil service has yet to yield any savings.
Enacted reforms can months or even years to take effect, the reason being, as the Atlantic Sentinel reported last year, that bureaucrats and local officials routinely stall or outright ignore changes in the law.
And even when (or if) crucial labor market reforms designed to break down the divide between older Italians on secure contracts who are almost impossible to fire and youngsters can only find temp jobs without benefits are finally implemented, they won't apply to anyone already in work — meaning it will take even longer before the reforms start bearing fruit.
Meanwhile, Italy still has the lowest employment rate in the eurozone after Greece, the lowest proportion of graduates in the European Union and its slowest justice system. Nearly one in two Italians under the age of 25 is out of work. Liquidating a company takes eight years. Getting a construction permit can take up to eight months.
Supply-side reforms
The European Commission had advised Italy year after year to reform its rigid labor laws, improve the enforcement of contracts and speed up its court procedures.
Renzi has accomplished none of that.
Instead, he proposes tax cuts to boost consumption when only two years ago Renzi agreed with the German diagnoses that Italy needed supply-side reforms rather than stimulus.
The Renzi from two years ago was right. Before he starts spending more money that Italy doesn't have, let him finish the job he started.