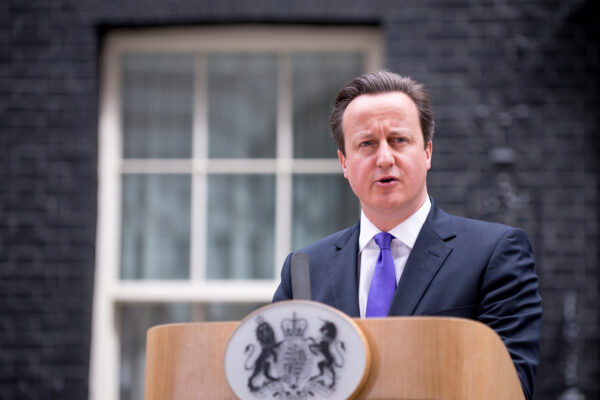 David Cameron has set a date for Britain's EU referendum: June 23.
"I believe Britain will be safer, stronger and better off in a reformed EU," the prime minister said a day after winning concessions from other European leaders that give his country "special status" in the bloc.
Cameron said withdrawing from the European Union as the first nation ever to do so would be a leap in the dark.
"Leaving Europe would be a threat to our economy and national security," he warned.
Party politics
Not all cabinet members are convinced. Up to a third are expected to back to a British exit.
Among them is Michael Gove, the justice secretary and a Cameron ally, who said on Saturday he believed Britain would be "freer, fairer and better off outside the EU."
By lending what the Financial Times describes as "intellectual weight" to the out campaign, Gove may also help Conservatives reconcile after the referendum campaign.
Boris Johnson, the outgoing mayor of London and a potential successor to Cameron, has yet to say whether he supports continued membership or not.
Two other well-known Euroskeptics, Theresa May, the hawkish home secretary, and Sajid Javid, the business secretary, do favor staying in. As does Cameron's chancellor and deputy, George Osborne.
If the referendum goes their way, the more liberal Osborne's chances of succeeding Cameron as Conservative Party leader vis-à-vis Johnson and May should increase.
Deal
The deal Cameron negotiated on Friday exempts Britain from "ever-closer union" with the nations of Europe and protects its financial industry from eurozone regulations.
It also gives national parliaments the power to block EU legislation and national governments, like Britain's, the right to temporarily freeze in-work benefits for workers from other European states.
When the contours of an agreement were revealed earlier this month, Britain's Euroskeptic press was derisive. The Sun, a tabloid, called it a "dismal failure worse than we ever imagined." The Daily Mail said "hardly anything in this deal will do one iota to stop mass immigration from inside or outside the EU."
Both newspapers endorsed Cameron for reelection last year.
Open Europe, a British think tank that advocates EU reform, was more measured in its response on Friday night, calling the deal neither transformative nor trivial.
"The safeguards against the eurozone dictating terms to the United Kingdom are significant," it said, "while the restrictions on EU migrants' access to welfare would make the current system fairer and help reduce the incentives to move to the United Kingdom to perform low-paid, low-skilled work."
Two-speed Europe
Britain is already the most semi-detached member of the 28-nation bloc, having opted out of the euro currency, the Schengen free-travel zone and areas of police and judicial cooperation.
Friday's deal not only further distances Britain from the continent; it is a step toward formalizing a two-speed Europe.
In the long term, the Atlantic Sentinel has argued, this may turn out to be the most significant of Cameron's reforms. It puts the brakes on any move toward federalization and instead could see a more flexible European Union emerge, one in which countries variously opt in and out of integration schemes.
The BBC's Gavin Hewitt similarly argues that the deal recognizes there are different layers of integration. And he reports that not all other member states are thrilled about this.
Italian prime minister Matteo Renzi has said, "There is a risk of us losing sight of the original European dream."
Belgium was greatly exercised that other countries might want to opt out from further integration.
"There is an underlying fear of contagion that other countries might seek similar opt-outs, so leading to an unravelling of the EU," according to Hewitt.
On the other hand, such an à la carte Europe, as the Belgians and French have dismissively called it, might be more durable than the current commitment to "ever-closer union," which voters elsewhere have grown wary of.