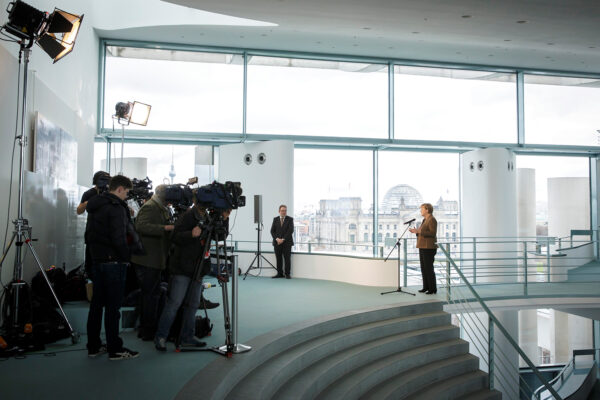 Germany is softly closing the door on immigration, Handelsblatt reports, as opposition to Chancellor Angela Merkel's open-door policy mounts.
Without publicly conceding to pressure, Merkel is taking small but effective measures to limit the tide of refugees into Germany, including speeding deportations and barring citizens of Algeria, Morocco and Tunisia from receiving asylum.
Earlier, family reunifications were already frozen and border controls have been temporarily reinstated on Germany's southern frontier.
Austria has completely suspended its Schengen free-travel arrangements with other European nations and capped the number of immigrants it is willing to take in this year. That should also help ease the pressure on neighboring Germany.
Overwhelmed
More than a million people applied for asylum in Germany last year, a tenfold increase from 2013.
The record influx has overwhelmed the German immigration authorities as well as the cities and towns who must shelter refugees.
Merkel still insists that the country can "manage," but attacks by foreigners in Cologne and other German cities on New Year's Eve have turned public opinion against her.
Hundreds of women and girls were intimidated and robbed that night by groups of men of Arab and North African appearance. Several women have said they were raped.
Polls show most Germans now favor capping the number of immigrants like Austria has done. Support for the anti-immigrant Alternative für Deutschland party keeps rising.
Merkel's Bavarian sister party, the Christian Social Union, this week threatened to contest her immigration policy in court unless she changes course.
Long term
To deter immigrants from coming to Germany in the long term, the federal government is looking to support development in their countries of origin, according to Handelsblatt.
Speaking at the World Economic Forum in Davos, Switzerland last week, Wolfgang Schäuble, Merkel's hawkish finance minister, called for a multibillion euro "Marshall Plan" to improve the economic prospects of countries in the Middle East and North Africa.
At a Syrian donor conference next month, Germany is expected to propose an "employment alliance" with Jordan, Lebanon and Turkey — the countries that house the bulk of Syrian war refugees — to create half a million jobs there at a cost of €2 billion.