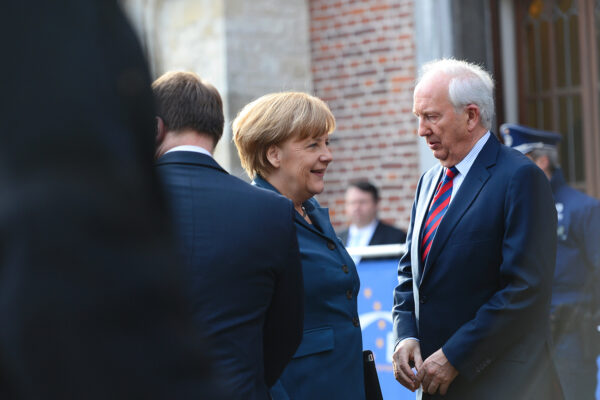 As German police made their first arrests this week in connection with mass sexual assaults in the city of Cologne on New Year's Eve, Chancellor Angela Merkel's conservative coalition split deeper on immigration.
Federal transportation minister Alexander Dobrindt, a member of Merkel's Bavarian sister party, told the Münchner Merkur that a reintroduction of border controls was inevitable. "The closure of borders will not split Europe," he argued. "The opposite is true: failing to close borders, that will bring Europe to its knees."
Later in the day, the Bavarian interior minister, Joachim Herrmann, told a meeting of Christian Social Union (CSU) leaders in Wildbad Kreuth that Germany should not allow more refugees to enter "uncontrollably". Those who arrive from "safe" countries should be returned immediately, he added. "This is not an invention of the CSU, but German law."
Merkel was due to join the party meeting in Wildbad Kreuth on Wednesday.
Overwhelmed
Some one million immigrants from the Balkans, the Middle East and North Africa applied for asylum in Germany last year, a tenfold increase from 2013. The enormous influx of people has overwhelmed the German immigration authorities as well as the cities and towns who must shelter them.
Merkel still insists that the country can "manage," but public sentiment is turning against her in the wake of attacks by foreigners in Cologne and other cities on New Year's Eve.
Hundreds of women and girls have filed criminal complaints with 40 percent alleging sexual assaults. Most described their attackers as men of Arab or North African appearance.
Prosecutors said on Monday that an Algerian asylum seeker had been arrested over the weekend in connection with the crimes.
Seven others were arrested earlier for alleged robberies and thefts.
Fences go up
A Bild am Sonntag poll has found that more Germans now favor capping the number of refugees: 48 percent support a proposal that has been made by — among others — CSU leader Horst Seehofer. 44 percent oppose it.
Merkel has responded by extending judges' power to deport migrants convicted of serious crimes.
Germany's neighbors have gone further. Austria said on Sunday it would "temporarily" suspend its Schengen free-travel arrangements with other European Union nations, arguing that immigration must be "controlled" and that economic migrants ought to be sent back.
Slovenia has announced stricter controls on its southern border with Croatia.
Hungary, under the nationalist premier Viktor Orbán, has fenced off its border with Serbia and cited the migrant crisis as excuse for a series of restrictive measures, including allowing police to conduct searches without warrants and enlisting telecom companies in the collection of bulk phone data.
Bavarians at the gate
In Germany, the CSU, more than the nationalist Alternative für Deutschland, has emerged as the biggest threat to Merkel's open-door policy.
Seehofer praised Orbán last year for "securing" Europe's outer borders and warned, "There is no country in the world that can take in refugees without limits and Germany won't manage this in the long run either."
To keep Seehofer's more right-wing party — which groups with Merkel's own Christian Democrats in the federal parliament — quiet, the chancellor suspended family reunifications late last year. But she did so without first winning the approval of her other coalition partners, the Social Democrats.
Sigmar Gabriel, the Social Democratic Party leader and economy minister, complained at the time, "The left hand of the government doesn't know what the right is doing anymore."
But Gabriel also recognized the political risk of admitting a record number of immigrants, predicting that attitudes would shift dramatically once local governments would be forced to choose "between caring for refugees and renovating a school or financing a swimming pool."