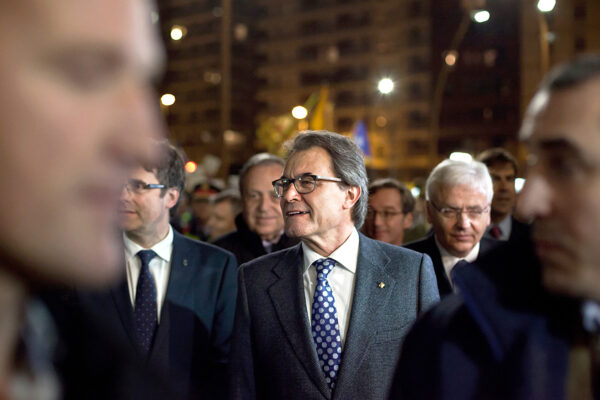 Catalonia's regional president and leader of its largest party, Artur Mas, has stepped down under a last-minute deal with separatists to avoid a rerun of last year's election.
Carles Puigdemont, the mayor of Girona, takes Mas' place as president of what is Spain's wealthiest region.
Kingmakers
The far-left Popular Unity Candidacy (CUP) had demanded Mas' resignation in exchange for supporting a government led by his Together for Yes.
The latter was formed last year from four parties, including Mas' liberals and the Republican Left, to seek an outright majority for Catalonia's separatists.
However, Together for Yes fell six seats short of a majority in September's election.
The CUP, with ten seats, is the only other party that interprets the election result as a de facto vote for independence.
The central government has refused to allow a formal independence referendum.
The opposition Ciudadanos ("Citizens"), People's Party and Socialists want Catalonia to remain part of Spain.
Formerly a fringe party, the anticapitalist and Euroskeptic CUP was reluctant to support the pro-market and pro-EU Mas. A party congress held just before New Year's deadlocked on whether or not to go into government for the first time.
National ramifications
The formation of a separatist government in Barcelona could convince the other three parties to form a coalition nationally.
Prime Minister Mariano Rajoy's People's Party lost its majority in December. It needs the support of at least the Socialists to stay in power. But they are unlikely to join a conservative-led administration unless it is also backed by the centrist Ciudadanos. The threat of Catalan secession could justify such a grand coalition.
Bittersweet
For Mas, the outcome is bittersweet. Having gradually escalated the region's standoff with Madrid since he came to power in 2010, the price of Catalan self-determination may now be his political career.
His party would once have been satisfied with greater self-government, but Spain's Constitutional Court tore up much of Catalonia's autonomy statute in the year Mas was first elected. Support for independence has shot up since.
Mas is not retiring from politics altogether. The inexperience of his successor has fueled speculation that he will continue to play a role behind the scenes.
The alternative — early elections — would have almost certainly discredited the independence movement and deprived it of its first-ever majority.