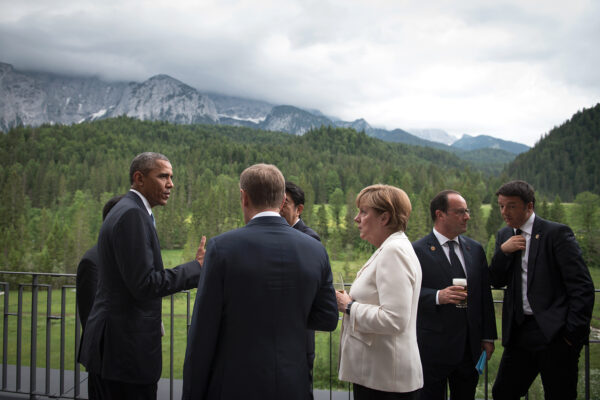 German chancellor Angela Merkel's Bavarian allies hailed her "first-class" leadership on Tuesday, days after she won the support of her party congress for an immigration policy that had split the right.
"We have an excellent chancellor," Horst Seehofer, the leader of the Christian Social Union, told a conference of Merkel's Christian Democratic Union in Karlsruhe. "Angela, you know this, we support you in all areas."
Only a month ago, Seehofer, who is also the state premier of Bavaria, had criticized Merkel's open-door policy and called for fewer immigrants.
On Tuesday, he still cautioned against a liberal immigration regime, saying, "There is no country in the world that can take in refugees without limits and Germany won't manage this in the long run either."
But he notably shied away from making concrete proposals for curtailing the flow of people across Germany's borders.
Moral imperative
In her own speech, Merkel said helping asylum seekers was "no more or less than a moral imperative."
Germany expects it will have to process up to one million asylum applications this year. Many are from refugees fleeing the violence in Iraq and Syria, but there are also hundreds of thousands of immigrants from poor Balkan states who will almost certainly be returned.
The record influx of people has divided the German right.
In addition to Seehofer, Wolfgang Schäuble, Merkel's hawkish finance minister and a hero of the Christian Democrat right, has said there is a limit to what Germany can do.
We need to send a clear message to the world: We are very much prepared to help, we've shown that we are, but our possibilities are also limited.
Dissatisfaction
Although she still insists that Germany can cope, Merkel has started giving in to her critics.
Last month, she agreed to the creation of "transit zones" on Germany's borders to control the flow of people coming in. Family reunifications were also frozen.
The policies satisfied the Bavarians, but upset Merkel's other coalition partners, the Social Democrats.
On Sunday, she backed a conference motion that called for fewer migrants and warned of the dangers of immigrants "overwhelming" Germany.
Sigmar Gabriel, the vice chancellor and Social Democratic Party leader, earlier warned that welcoming attitudes toward newcomers could change dramatically if local governments were forced to choose "between caring for refugees and renovating a school or financing a swimming pool."
Recent opinion polls show the anti-immigrant Alternative für Deutschland party gaining ground to become Germany's fourth largest.
Merkel's conservatives are still far ahead at 37 percent support. But that is down from the 41.5 percent they got in the last election.