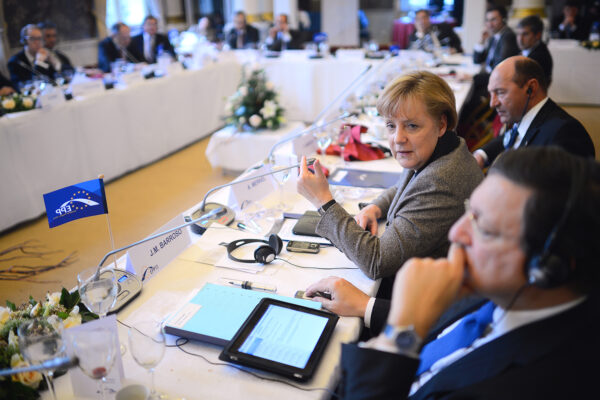 Having solved one immigration crisis in her coalition government, German chancellor Angela Merkel now faces another.
Last week, she calmed down her Bavarian sister party, the Christian Social Union, by agreeing to the creation of "transit zones" on Germany's borders to control the influx of asylum seekers and temporarily freeze family reunifications.
Her other coalition partners are up in arms about the new policies.
Confusion
Vice Chancellor Sigmar Gabriel, the Social Democratic Party leader, told ARD television that the proposal to suspend family reunifications hadn't even been discussed within the coalition.
"No one can demand that the SPD responds with a 'yes' or 'no' to proposals within 24 hours," he said. "The left hand of the government doesn't know what the right is doing anymore."
His comments came after Thomas de Maizière, the interior minister, had announced a change in policy that would see Syrian war refugees receive one-year residency permits without being able to bring over their families.
De Maizière said the new policy was necessary because "the number of refugees is so high that we simply cannot accommodate numerous family members."
Limit
Wolfgang Schäuble, the hawkish finance minister and a hero of the Christian Democrat right, similarly argued this weekend that there is a limit to the number of people Germany can take in.
We need to send a clear message to the world: We are very much prepared to help, we've shown that we are, but our possibilities are also limited.
Merkel has so far refused to limit the number of immigrants her government will accept. Germany excepts to receive up to one million asylum applications this year.
Many are from refugees from the Syrian Civil War who can expect to stay in the European country. But hundreds of thousands of immigrants from poor Balkan nations will likely be returned. Germany recently reclassified all Balkan states as safe, removing their right to asylum.
Test
The migrant crisis has turned into the most serious test of Merkel's ten-year chancellorship yet. She got ahead of public opinion this summer by insisting that Germany could cope with the record high number of immigrants. Now the mood is shifting and her approval rating has fallen to a four-year low.
Local officials from Merkel's Christian Democratic Union have complained that the open-door policy makes it impossible for them to cope. The Bavarian conservatives have taken the hardest line, expressing support for Hungary's nationalist prime minister, Viktor Orbán, who fenced off his country's border with Serbia to keep migrants out.
Recent opinion polls show the right-wing Alternative für Deutschland, which has gradually become more anti-immigrant, rivaling the far-left Die Linke to become Germany's fourth largest party.
Merkel's conservatives are still far ahead at 36 percent support. But that is down from 41.5 percent in the last election.
Gabriel's Social Democrats get 26 percent support, virtually unchanged from their most recent election score.