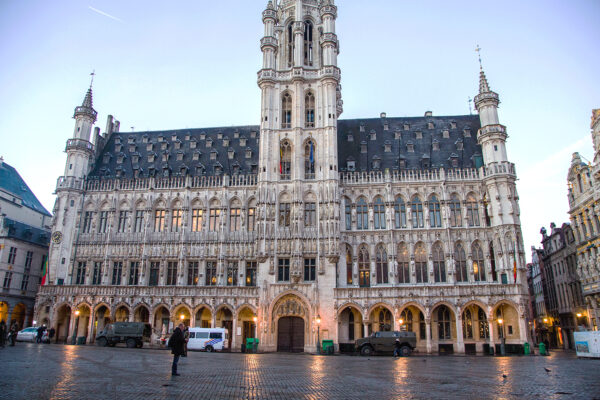 Belgian authorities said on Sunday they would keep the country's terror alert at its highest level going into Monday, citing a "serious and imminent" threat to the capital, Brussels.
Sixteen arrests were carried out in Brussels and the city of Charleroi, closer to the border with France, after parts of the capital were evacuated by police on Sunday night. The federal prosector's office said after midnight that nearly two dozen houses had been searched, but no explosives or weapons were found.
Prime Minister Charles Michel announced earlier in the day that schools and subways were to remain shut. "We fear an attack like in Paris, with several individuals, perhaps in several places," he said.
Officials recommended that sports competitions and other public activities be canceled.
Synagogues were advised to close their doors as well. A few decided to stay open anyway for Shabbat prayer services.
Fear of Paris-style attacks
Last week, Islamic terrorists killed more than 130 people in coordinated shootings and bombings across the French capital, including the first suicide attacks in the country.
One of the suspects in the Paris attacks was last seen crossing into Belgium and French security services believe the attacks were at least partially planned in Brussels.
On Saturday, Michel said there was concrete evidence of a terror plot. He told reporters that the authorities feared "several individuals with arms and explosives could launch an attack," possibly in different places.
Belgium earlier deployed troops in January — also after terrorist attacks in Paris — to protect government buildings and Jewish schools. Police raided a group of suspected jihadists at the time and seized explosives, guns and munitions. Two suspects were killed in a shootout with police in Verviers, a city close to the Dutch and German borders.