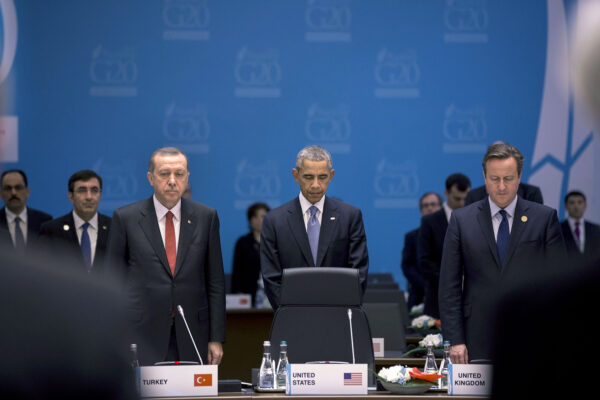 British prime minister David Cameron made his case for airstrikes against the self-declared Islamic State in Syria on Thursday. He called the Islamist group a "serious and undeniable" threat and argued that the United Kingdom cannot "outsource" its security to allies.
American and French warplanes are already striking Islamic State targets in Syria. Britain only bombs in Iraq at the invitation of the government in Baghdad.
Cameron has urged more expansive British action against the group, which controls territory in both Middle Eastern countries, for months.
But he did not immediately call for a vote in the House of Commons, saying he wanted to be assured of a "clear majority" in advance. Another defeat, he said, would be a "publicity coup" for the Islamic State.
Other parties wary
Parliament voted down military intervention in Syria in 2013. At the time, Cameron sought support for strikes against forces loyal to President Bashar al-Assad.
Assad's regime largely controls the western part of Syria while the Islamic State — also called ISIS — holds territory in the east.
The opposition Labour Party is skeptical this time as well. Its leader, Jeremy Corbyn, said he wondered whether bombing would "reduce or increase" the threat "and whether it will counter or spread the terror campaign ISIS is waging in the Middle East."
Britain at risk
Cameron countered that Britain is already at risk.
"That bomb in Paris, that could have been London," he said, referring to a series of bombings and shootings in Paris earlier this month that killed more than 130 people. The Islamic State claimed responsibility for the attacks.
It also claimed responsibility this summer for a shooting at a Tunisian beach resort that killed thirty British tourists.
Corbyn is under pressure to allow his members a free vote but is hoping his shadow cabinet can reach a "collective view" on bombing.
The Scottish National Party, the third largest in Britain's lower house, has said it will not support military action without authorization from the United Nations.
Russia, which has a veto on the body's Security Council, would likely block strikes. It support the Assad regime.