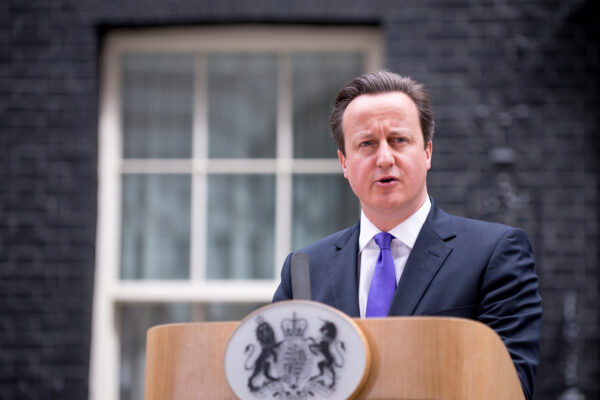 When British prime minister David Cameron was reelected in May, this website urged liberals to rejoice. His centrist platform, we argued, would do more to advance the liberal cause than either Labour or the Liberal Democrats.
The Conservative Party leader's conference speech on Wednesday vindicated that view.
The prime minister spoke with pride about how "social justice, equality for gay people, tackling climate change and helping the world's poorest" are now "at the center of the Conservative Party's mission." He said he was frustrated that "people with white-sounding names are nearly twice as likely to get call backs for jobs than people with ethnic-sounding names" — and this comment was met with a standing ovation from a conference that had earlier listened to Home Secretary Theresa May bemoaning high levels of immigration.
There is a reactionary minority in the Conservative Party that still mistrusts Cameron's "modernizing" effort. But his unexpected triumph in May has silenced the critics (for now) and showed that a liberal agenda, tempered by a dose of English patriotism and a bit of old-fashioned Tory paternalism, can be a winning strategy.
State of British liberalism
The Conservatives' election victory came at the expense of their coalition partners, the Liberal Democrats. Cameron decimated the party with which he had governed for five years to give the right its first overall majority in nearly two decades. But he could only do so by pulling his own party to the center.
Former deputy prime minister Nick Clegg lamented in the wake of his party's defeat that liberalism in the United Kingdom was "not faring well against the politics of fear." The Independent said Britain had become a "less liberal country." The Economist had earlier warned against Britain emerging "smaller, more inward-looking and with less clout in the world" as a result of its supposedly rightward shift.
The Atlantic Sentinel disagreed.
We said liberals should start by recognizing that David Cameron was the most liberal prime minister they were going to get. Labour may be more internationalist but its liberal foreign policy is more than offset by an illiberal economic program.
Moreover, now that the Conservatives support marriage equality and a higher minimum wage, Labour is no longer the only socially liberal party.
As for the Liberal Democrats, they can never win a national election.
Social agenda
Cameron's first government was more liberal in the economic sense. It cut spending and taxes, reduced the deficit by half, brought down inflation and unemployment and decentralized education.
Plans for the second term include more tax cuts, raising home ownership, devolving powers to England's major cities and Scotland and reforming the European Union so the bloc spends more time strengthening the single market than it does expanding a bureaucracy in Brussels that is out of touch with voters everywhere.
But, as Cameron revealed on Wednesday, there is a social agenda as well that ranges from tackling discrimination and poverty to providing more generous child care.
The Financial Times reports that this marks a return to the "compassionate conservatism" of a decade ago when Cameron won the Conservative Party leadership on a platform that was at odds with its "nasty" reputation.
"Get on with life"
The prime minister reminded his conference that most Britons do not obsess about politics. "They just want a government that helps the vulnerable and helps them get on with life," he said.
He's right. But he must nevertheless battle "obsessives" on both sides.
On his right, Euroskeptics who believe the election gave them a mandate to take Britain out of the European Union and social conservatives who believe Labour's lurch to the left gives them a chance to stall Cameron's modernization effort.
And on his left, liberals who, it seems, are never content.