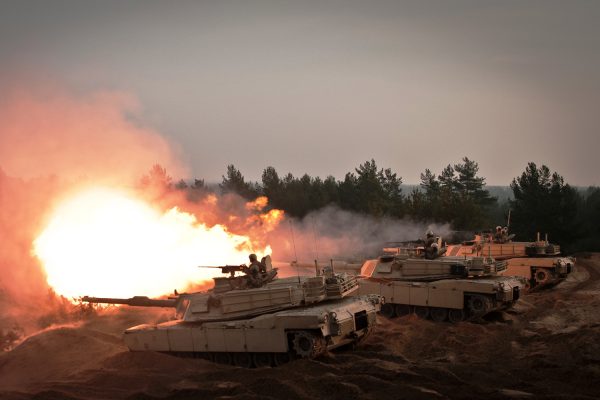 Russia's former satellite states in Eastern Europe have seen a surge in military activity on and near their territory in recent months as East-West tensions show no sign of abating.
Poland's defense minister, Tomasz Siemoniak, complained on Thursday of "unprecedented" Russian military activity in the Baltic Sea region and said his country's former Soviet master was testing NATO.
Poland is one of the many former East Bloc states that joined the NATO alliance after the end of the Cold War.
Siemoniak made his remarks after Dutch F-16 fighter jets, taking part in NATO's Baltic Air policing mission, intercepted two Russian bombers on Monday. The minister wouldn't give details of the incident but said it was "one of many."
On Tuesday, the Norwegian military said one of its warplanes had a "near miss" with a Russian fighter jet in the Arctic.
Finland also reported "unusually tense" Russian activity over the Baltic Sea and the Gulf of Finland with military aircraft ferrying between mainland Russia and its Kaliningrad enclave, north of Poland.
In October, Sweden scrambled naval forces in search of a suspected Russian submarine in its waters. In November, unidentified submarine activity was also reported west of Scotland in the area where British nuclear submarines are believed to transit.
Since the start of the year, Russian nuclear bombers have repeatedly menaced European airspace and been intercepted by fighters from the Netherlands and the United Kingdom.
Russia has played the cat-and-mouse game with NATO since it occupied and annexed the Crimean Peninsula from Ukraine in March. The incident, which came after a row with the European Union over the bloc's improving relations with the former Soviet republic and the overthrow of a relatively pro-Russian president in Kiev, alarmed especially Eastern European nations about Russia's intentions.
Poland, which has the eight largest army in NATO, responded by moving the bulk of its armed forces to its eastern border under a three-year modernization plan.
The alliance deployed surveillance planes for constant patrols over Polish and Romanian territory in order to monitor Russian troop movements in Ukraine.
It also increased the number of jets patrolling Baltic airspace from four to sixteen and agreed to improve its Rapid Reaction Force by establishing a new high-readiness task force with three to 4,000 troops from Denmark, Germany and Norway. It is slated to be operational by the end of next year when it should be deployable within days.
Separately, the three Baltic states, Denmark, the Netherlands, Norway and the United Kingdom have made plans to form a joint expeditionary force by 2018. The same countries plus Finland and Sweden agreed last month to improve intelligence sharing and joint air force training.
The United States, which account for more than 70 percent of NATO defense spending, has announced measures of its own, including increased training activities and the deployment of "rotational" forces in the Baltics and Poland. American soldiers and tanks took part in military exercises in those countries earlier this month. Fifty armored fighting vehicles and battle tanks are to remain prepositioned in the area with another one hundred armored vehicles to be deployed across the Baltics, Bulgaria, Poland and Romania next year.
Previously, the United States shied away from permanently deploying forces in the new NATO states east of Germany for fear of aggravating Russia's security concerns.
Russia's invasion of Ukraine at least partially came about as a result of this insecurity complex. The country sees NATO's eastward expansion as a threat to its ability to defend itself. However, its aggressive posture has made the situation worse from Moscow's perspectives, with Western allies boosting their presence in Eastern Europe and traditionally neutral Finland and Sweden thinking about joining the alliance.