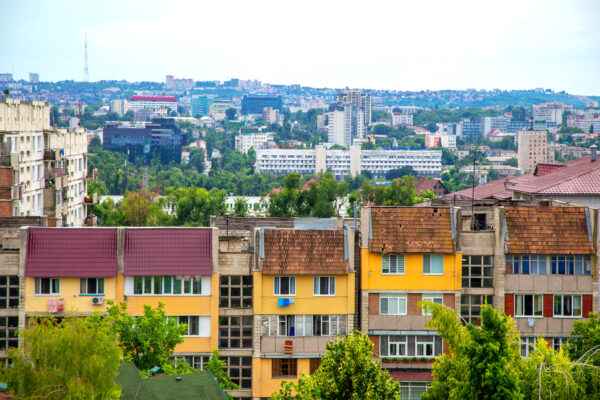 Moldovans are asked to choose between further integration with the rest of Europe or better relations with their former Soviet master, Russia, in parliamentary elections on Sunday. The stark choice is reminiscent of recent events in Ukraine where large demonstrations in favor of closer relations with Europe brought down the government and prompted Russia to back a separatist insurgency in the southeast.
"If before everyone thought it was possible to adapt and find a stable balance between East and West, now, I think, voters really must make a choice between East and West," Romania's former foreign minister, Teodor Baconschi, told Radio Free Europe/Radio Liberty in an interview.
Prime Minister Iurie Leancă's pro-European parties are at 49 percent in the opinion polls. But his Liberal Democratic Party is neck and neck with the Communists. Both are polling at 21 percent support.
Although the Communist Party that led Moldova until the collapse of the Soviet Union in 1991 is generally considered pro-Russian, it is internally divided. Rather it is the mainstream Socialist Party that looks likely to make the most significant gains. It not only favors closer relations with Russia; the party advocates the interests of Moldova's 9 percent ethnic Russian minority.
An alliance between the two left-wing parties would be complicated. Socialist Party leader Igor Dodon split from the Communists three years ago. He may be more likely to enter into a coalition with the centrist Democratic Party, even if it currently supports Leancă's government and Moldova's integration with the European Union.
Moreover, the Communists and Socialists are likely to fall short of a governing majority without the pro-Russian Patria party. It was disqualified from running by the country's election commission on Thursday which said it had illegally used "foreign funds" to finance its campaign. It was polling at around 12 percent support.
Although most Moldovans favor the government's pro-European policy, they are also disenchanted with its poor record in fighting corruption.
Economic growth has been volatile. After 7.1 and 6.4 percent growth in 2010 and 2011, the economy contracted .7 percent in 2012 before recovering the following year and expanding 8.9 percent. Figures point to lower growth this year.
Trade and visa agreements with the European Union have helped buoy the economy but Moldova remains one of the poorest countries in Europe.
It has also been hit by Russian import restrictions on meat, vegetables and wine, enacted after Moldova signed an association agreement with the European Union this summer that put it on a path to membership.
A similar association agreement with Ukraine sparked its standoff with Russia. When former president Viktor Yanukovich unexpectedly pulled out of the treaty talks late last year, hundreds of thousands of Ukrainians took to the streets to protest the decision. Yanukovich resigned in February and Russian troops moved into the Crimean Peninsula the next month. After it formally annexed the territory, which headquarters its Black Sea fleet, the Moldovan breakaway region of Transnistria requested similar admission into the Russian Federation.
Moldova does not appear to have either the capacity or the intention of recovering Transnistria, an enclave on its border with Ukraine that is home to half a million people.
Transnistria looks similar to the self-declared "people's republic" in eastern Ukraine which have received military support from Russia. However, Russia does not appear to have stepped up support for Transnistria in recent months. It altogether ignored the region's request for annexation.
Moldova and Russia also recently signed a new contract for natural gas supplies. Like many states in Eastern Europe, Moldova depends almost entirely on Russian gas. But that might change.
A new pipeline with Romania, partially financed by the European Union, was inaugurated last year and is supposed to help provide up to a third of Moldova's gas requirements by the end of 2014.